Educational Assessment Software: Finding the Best Solution
Educational assessment software is a key platform for many types of organizations, from K12 schools to universities to corporations that provide training or certifications. There are many possible solutions in the marketplace, so how can you tell them apart? This blog post provides a list of important functionalities and components that you should consider.
Ready to get moving?  Sign up for a free account on our platform.
What is Educational Assessment?
Educational assessment is a vital component of the learning process, serving as a structured mechanism to evaluate and measure a student's knowledge, skills, and overall educational progress. This process involves gathering data and information about a learner's performance to inform educational decisions (at an individual level but also aggregate levels like classroom, teacher, school, district, state, or nation!), improve teaching methods, and enhance student outcomes. Educational assessment encompasses various forms, including formative and summative assessments.
Formative assessments occur during the learning process, offering immediate feedback to teachers and students. These assessments can take the form of quizzes, discussions, or observations, guiding instructors in adapting their teaching strategies to meet students' needs. Summative assessments, on the other hand, typically occur at the end of a learning period and provide a comprehensive evaluation of a student's overall understanding and proficiency, often through exams, projects, or standardized tests.
Effective educational assessment contributes to personalized learning experiences, helps identify areas where students may be struggling, and aids in curriculum development. It plays a crucial role in both formulating educational policies and enhancing individual learning journeys. By optimizing educational assessment techniques, educators and institutions can ensure that students receive a well-rounded and tailored education, ultimately fostering academic success.
Types of Educational Assessment Software
First, you should know that there are two main types:
Open-Content: These platforms are designed for an organization to make their own assessments, by managing item development, publishing test forms, scheduling students, and pulling psychometric reports to validate the tests.
Closed-Content: These platforms come with assessments prebuilt, which means that you don't need modules to manage item development, publishing, or psychometrics – all that work has already been done by the vendor.  You just need to pick which tests to assign to which students.
The latter approach works very well for assessments that are at a very large scale, and generalizable to many organizations.  For example, in the USA there is the Common Core curriculum, implemented by thousands of school districts.  It makes sense to prebuild such exams.  But if you are in charge of a test like accountants for the country of Colombia, there is really only one organization who would use this (you), and most likely you have the internal staff to make the questions, it is not something you can outsource.
ASC only provides the first approach.  If you need prebuilt exams, we recommend you look at providers like NWEA, Edmentum, or Imagine Learning.
How to Evaluate Educational Assessment Platforms
The power behind these functionalities serves as a continuum of quality. It is extremely easy to build a simple platform for multiple choice quizzes or surveys. On the other end, it takes millions of dollars to develop a high-quality platform that supports everything in this list below. So if you are shopping for online assessment software, start by evaluating this list to determine where on that continuum your organization falls. Once you have a clear list of required and nice-to-have functionalities, you can start shopping more effectively.
Moreover, the educational assessment software platform should provide a comprehensive, modular solution.  One platform should cover all these aspects, but do so in modules so that you can appropriately assign your staff.
Item Banking
Item banking refers to the process of building and managing large pools of test items (questions) that can easily be reused and revised.  When you have thousands or tens of thousands of questions, complex curriculua to tag items, years of historical statistics, dozens of staff, or other complex situations, you need a system which is specifically designed to handle this.
Item authoring
Comments
Rationale
Formatting/display
Versioning
User edit tracking
Tracking of which test forms have used each item
Storage of classical item statistics
Storage of item response theory parameters
Customizable review workflow
Ability to create assignments; telling users to write or review 10 items and sending an email reminder
Tech-enhanced item types like drag and drop, fill in the blank, audio/video, equation editor, and more
Separate module for managing multimedia files, so they can be treated as reusable objects
Development of clear blueprints
Entering such blueprints into the item banking system
Ensuring that all authors write items tagged to a blueprint objective
All items must be reviewed to confirm
Item Writing Guide and objectives
Test assembly and management
A professional online assessment platform should provide a module for assembling, publishing, and managing test forms.  There's a lot more that goes into this than just picking 20 multiple choice items to be on a quiz.
Item selection
Test sections with options
Subscores for feedback
Evaluation of classical and IRT form statistics (e.g., test information function)
Parallel form assembly
Printing to paper
Online publishing with extensive controls over time/navigation/etc.
Online delivery
Online exam delivery is arguably the most important part of online assessment software.  There is a MASSIVE range out in the market, though – from simple survey engines to powerful platforms with AI and dozens of item types.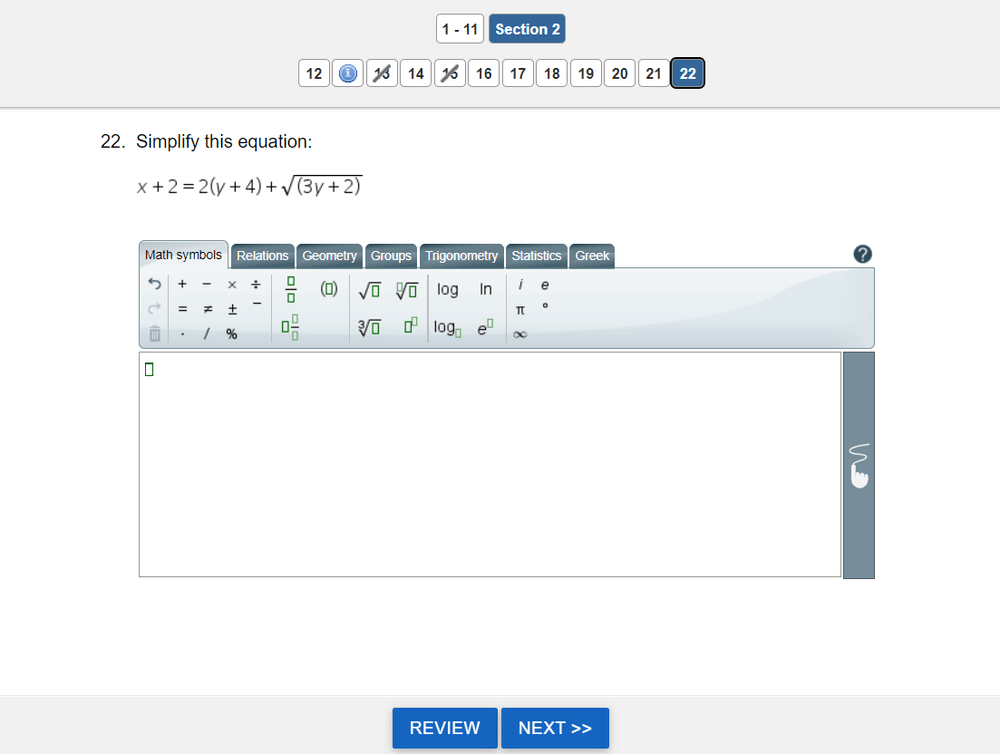 Customizable options (time limits, section limits, navigation, etc.)
Widgets (calculator, protractor, notepad, etc.)
Item response theory scoring (especially with polytomous models for tech-enhanced items)
Testlets (e.g., reading passage with multiple questions on same screen)
Lockdown browser for secure delivery
Secure examinee login
Customizable score reports
Customizable messages and instructional screens
Accessibility features
Brandability
Scheduling: time/date windows, specific assignment of students to groups and forms
Essay Marking
The platform should provide a module for you to score open-response questions like essays or spoken-response items from language assessments.  Also options for automated essay scoring.
Create custom rubrics
Assign rubrics to items
Manage markers
Set a marking scheme (e.g., one or two markers per essay?)
Require markers to score via rubrics
Markers can leave comments.
Reporting
The educational assessment software should provide you all the raw data you need, but also summary reports that empower you to improve your assessments with psychometrics.  Also, you need to provide reports to the students, instructors, and other stakeholders – since the entire purpose is to provide such people with the information needed to improve learning!
Full exports of all data: raw responses, scored responses, response times, scores, examinee metadata
Classical item performance reports
Item response theory analysis
Session dashboard with admin controls (submitting abandoned students, etc.)
REST API connections
Administration
There are non-assessment aspects that are important to consider as well, from user management to technology.
User management
Role based security
Content-limited user access
User action tracking
Secure logins
Redundant cloud-based architecture
Security accreditations like SOC2 or FedRAMP
Psychometrics
An assessment is only providing quality information if it has supporting reliability and validity.  This includes content-related validity, which comes from strong test design and item banking, but also advanced psychometrics like item response theory.
Test specifications
Item response theory
Equating across forms
Item analysis and test reliability reports
Scaled scoring
Adaptive testing
The following two tabs change content below.
Nathan Thompson, PhD
Nathan Thompson earned his PhD in Psychometrics from the University of Minnesota, with a focus on computerized adaptive testing. His undergraduate degree was from Luther College with a triple major of Mathematics, Psychology, and Latin. He is primarily interested in the use of AI and software automation to augment and replace the work done by psychometricians, which has provided extensive experience in software design and programming. Dr. Thompson has published over 100 journal articles and conference presentations, but his favorite remains https://pareonline.net/getvn.asp?v=16&n=1.
Latest posts by Nathan Thompson, PhD (see all)
https://assess.com/wp-content/uploads/2023/05/iStock-1363276484-scaled.jpg
1440
2560
Nathan Thompson, PhD
https://assess.com/wp-content/uploads/2023/11/ASC-2022-Logo-no-tagline-300.png
Nathan Thompson, PhD
2022-04-14 21:35:59
2023-10-12 16:40:14
Educational Assessment Software: Finding the Best Solution